Master of Social Sciences in Psychology Information Seminar
Programme Objective
The Master of Social Sciences in Psychology sets out to provide an education for students who are holders of Bachelor's degrees with Honours in fields other than psychology who have an interest in gaining psychological knowledge. It will also serve as the first step for those who intend to pursue Master's level education or above in the field of psychology in Hong Kong or overseas (e.g. Counselling Psychology, Clinical Psychology, Educational Psychology, Industrial-Organizational Psychology, etc.)
Feature of the Programme

The programme is designed to give students sufficient grounding in the core areas of psychology to qualify them:
1. to apply for student affiliate or graduate membership of the Hong Kong Psychological Society, the American Psychological Association, the British Psychological Society, and other professional associations of comparable standing;
2. to gain direct entry into any career potentially open to Psychology graduates in both the private and the public sectors; and
3. to apply for postgraduate training in all recognized areas in psychology, and in particular, in one of the four areas of applied professional psychology (i.e. Clinical Psychology, Counselling Psychology, Educational Psychology, and Industrial and Organizational Psychology) in an accredited university.
The programme sets out to achieve these aims by providing learning opportunities for personal growth, theoretical knowledge, research skills, and competencies necessary for further education at postgraduate level.
Programme Information
Title of Award:
Master of Social Sciences in Psychology
Mode of Attendance:
Part-time
Intake Quota per Annum:
35
Duration of Programme:
Two years
(Six trimesters)
Programme Director:
Dr. Jason CHOW
The total number of credits required for graduation:
36
Total Tuition Fees:
$72,000 ($2,000 per credit)
To be paid in six instalments prior to the commencement of each trimester
Programme Structure
Elective Courses (Choose 2 from the following list in the 5th/6th Trimester)
Entrance Requirement 
Candidates must
i. have earned a bachelor's degree with Second Class Honours or above from an accredited university in an area other than psychology, AND
ii. pass a take home entrance examination on Introductory Psychology composed primarily of multiple-choice and essay questions, AND
iii. attend an interview.

Language Requirements
Applicants with entrance qualifications from an institution where the medium of instruction is not English should also fulfil the following minimum English proficiency requirement:
(a) Overall score ≥ 6.5 in International English Language Testing System (IELTS) (Academic); or
(b) Test of English as a Foreign Language (TOEFL) score of 600 (Paper-based Test) or 100 (Internet-based Test) or 250 (Computer-based Test); or
(c) Other equivalent qualifications acceptable to the University.
Take Home Entrance Examination
After the interview process is completed, short-listed applicants will receive a take home examination. The exam coverage is derived from material typically covered in an Introductory Psychology course. Specifically, the following subjects constitute the test's coverage: the Research Enterprise, Biological Psychology, Sensation and Perception, Learning, Human Memory, Intelligence and Emotion, Human Development, Personality, Social Psychology, and Abnormal Psychology. Most introductory psychology textbooks from 2009 to the present will contain extensive coverage of these topics. It is recommended that the applicant use such a textbook to prepare for the entrance examination. Currently, the primary text adopted in PSY100 Introductory Psychology at this university is Sun, C. T. L. (Ed.). (2015). Psychology in Asia: An introduction. Singapore: Cengage. Learning.
Transfers from non SYU-operated Conversion Programmes in Psychology
Candidates with previous qualifications in conversion programmes in psychology for which the exit award is below the master's level or who are currently enrolled in such programmes either locally or overseas may apply for credit transfer into the MSocSc in Psychology. The maximum number of transferred credits must not exceed 55% (or 20 credits) of the total number of credits required for graduation.
Application Procedures
Information Seminar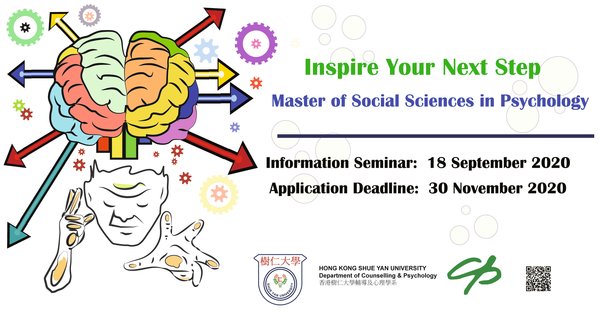 The information seminar for the Master of Social Sciences in Psychology programme will be conducted via live stream and on campus mode* at 1900 on 18 September 2020 (Friday). Please check HERE for reservation. Registration deadline of the information seminar: 16 September 2020.
Date: 18 September 2020 (Friday)
Time: 1900-2100 (HKT)
Information Seminar plus Mock Lecture
| | |
| --- | --- |
| Topic: | "Finding the silver-lining in the unprecedented storm: Local experience of self-compassion and growth in Covid-19" |
Mode: Online Stream by Zoom or On Campus mode*
*On Campus mode is upon request and approval. (Seats are limited)
2020-2021 Information Seminar PPT.
Application Procedures
A completed application package shall consist of the following documents:
- Application form (pdf version / doc version)
- A Photocopy of HKID Card/Passport
- Photocopies of degree certificates
- Official transcripts from post-secondary institutions/universities attended
(Transcript Request Form (pdf version / doc version) - Please also send this form to your appropriate officer of institution from which the transcript is requested. HKSYU graduates are not required to request for transcripts from the Registry. Copies of past academic results will suffice.)
- A photocopy of each professional qualification obtained as stated on the application form
*Application Fee for 2020-2021 cohort is exempted

The application shall be submitted by post or in person to:

Admissions Coordinator
Master of Social Sciences in Psychology
Hong Kong Shue Yan University
10 Wai Tsui Crescent, Braemar Hill Road, North Point, Hong Kong
Important Dates (For January 2020 cohort)
1st Round Application Deadline : 30 October 2020
1st Round Interview : 2-6 November 2020
2nd Round Application Deadline :27 November 2020
2nd Round Interview : 30 November - 4 December 2020
* Note about Deadline for Applications:
We have a quota for admitting students each year and applications are considered in batches. Admissions priorities will be given to applicants who apply in the main round (and subsequently those in the second round). Applications beyond 4 December 2020 will only be considered on case-by-case basis subject to availability of spaces. You are therefore encouraged to apply as early as possible.
Enquiries
Telephone: 2806 7332
E-mail: msspsy@hksyu.edu
Teaching Staff
Dr. Jason CHOW T.S.
Assistant Professor
Programme Director
Ph.D., The University of Hong Kong

Area of Research Interests:
1. Self-control
2. Motivation
3. Intimate relationship

Dr. Bobo LAU H.P.
Assistant Professor
MSSPSY Research Co-ordinator
Ph.D., The University of Hong Kong

Area of Research Interests:
1. Gerontology
2. Community mental health
3. Chronic illnessess
4. Family caregiving

Dr. Patrick CONNOLLY J.
Assistant Professor
Ph.D., University of South Africa

Area of Research Interests:
1. Psychoanalysis
2. Neuropsychoanalysis
3. Psychotherapy and Counselling
4. Systems Theory
5. Psychosis and Schizophrenia
6. Post-traumatic Stress

Dr. Wai FU
Associate Professor
Ph.D., The University of Hong Kong

Areas of Research Interests:
1. Psychoanalysis Related Issues
2. Drug Addiction
3. Pathological Gambling
4. Program Evaluation
5. Qualitative Inquiries

Dr. L.Y. LO
Associate Professor
Ph.D., The University of Hong Kong

Area of Research Interests:
1. Cognitive Components in Emotion Perception
2. Development of Emotion Regulation

Dr. Nicolson SIU Y.F.
Assistant Professor
Ph.D., The Chinese University of Hong Kong

Area of Research Interests:
1. Human Cognition (Memory, exective functions, time perception)
2. Neurological & Psychiatric Disorder (Autism Spectrum Disorder, Delusional Disorder)
3. Psychological and Cognitve Interventions (Mind-body exercise, aerobic exercise, horticultural therapy, noture therapy)
4. Pain Management

Dr. Jacky NG C.K.
Assistant Professor
Ph.D., The Chinese University of Hong Kong

Area of Research Interests:
1. Integration of Mediation and Moderation
2. Structural Equation Modeling
3.Multilevel Modeling
4. Cross-cutural Research Methodology